Reading Time:
9
minutes
I have heard a ton of good things about the Fjällräven Kånken and ultimately decided to order one; just in time for colors that I've always wanted to be stocked up again. Residing in the Philippines, online ordering isn't exactly the easiest process due to the nature of customs and the national post office – which most if not all packages have to pass through.
In all honesty; when I ordered my package I was extremely afraid due to all the horror stories regarding Philpost that have come to my attention. Researching on it more online doesn't exactly calm one's anxieties either – it pretty much made me fear for the worst even further. Surprisingly, my package arrived fine and intact — although it did require further research on my part and wasn't the most flawless or smooth process.
So in case anyone else is interested in ordering a Kånken bag online or have a package for them – here's my experience and what I had to go through, bundled up with a short and simple review of the product in question.
Ordering Process
After lots of checking up on the I Love My Kånken website, I finally saw that Blush Pink was in stock. With that, I was ecstatic and had placed my order on a Sunday – ordering another classic Kånken in Fog for my sister. Each one cost about 55 Euro, which amounts to about 2900 Php with the current conversation rate. The website openly shared a discount code that shaved 10% off your order; giving me a 17 Euro discount which converts to about 900 Php – a pretty good deal, although for two bags. Shipping is free for orders over 40 Euro, so there wasn't any problems with that – and since majority of the items are priced above that there truly should be no issue with absurd shipping prices.
The bag was shipped off the next day and I was given a tracking number that could be used with their shipping service as well as Philpost. I Love My Kånken ships their items using the Royal Mail service – International Signed, therefor the package is counted as Registered Mail. Their estimated delivery time for international shipments outside of Europe is marked at around 7-10 days, which is just about right. My package was shipped out on April 20 and arrived at the country on April 30.
Once the parcel arrives at the Philippines, Royal Mail does not handle tracking. The status is retained at "processed for delivery in the PHILIPPINES"; leading all further information being left up to Philpost. In all honesty, the tracking system that they have is… so disappointing and vague. The picture below shows what had appeared on my package's tracking – and despite having picked it up, the item does not update to "Item Delivered" as it should. It's fine as long as I have it, I suppose.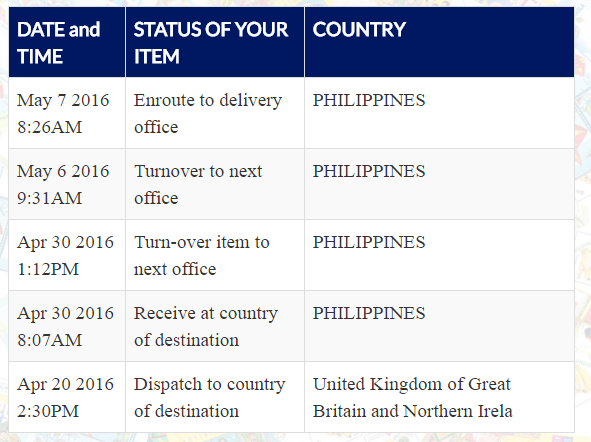 It took Philpost around week to process my package from its arrival – to having it sent to the post office. Since I wasn't informed of where the "delivery office" was; and because I'm located in Metro Manila – I assumed that I had to pick up my package there. In actuality, it was sent to my local post office.
Customs, Claiming
Since the package was sent on a Saturday and the office is closed on Sundays, I decided to immediately check on it the next day. May 9th however – was elections, so I opted to get it checked for on Tuesday instead. I did not personally handle the claiming of the package – the name of the package was addressed to a family member and we had sent someone to pick it up. A letter of authorization was required (just a simple one stating the basics, the name and the tracking number) as well as valid IDs from both the addressee of the package and whoever is going to claim it. I did not receive a notice from the Post Office, which normally has the details on where to go and whatnot. So without a doubt if you are excited like me feel free to check on the package a day or so after it is labelled as 'enroute', it should normally be there within a day or so for Metro Manila residents. I am not sure if this is the case with deliveries to provinces.
After being redirected back to the local post office, the tracking number was presented and our claimee went through a smooth flow – the package was claimed in a little less than an hour. Surprisingly, the parcel was not opened or inspected – but it was indeed taxed. About 1,800 php for two bags, not each – thankfully! It's quite a hefty amount upon first glance and is pretty much more than half the price of an individual bag but it's a fair amount for two.
The parcel arrived intact with no damage whatsoever. It was sealed airtight and really compressed – wrapped around gray packaging and then in individual plastic for each bag. Here's a very low-quality image of the bag in its new glory.
My experience in claiming the package was pretty alright! Don't let the disappointing stories get to you – there's a good chance of the process flowing smoothly. Just be prepared to pay a pretty large tax – bring around three thousand or so in case customs decides to be a little stingy on the day wherein you decide to claim your package. Also – don't expect Philpost to answer their phone, or email – or anything for that matter. (Update: I received a reply on May 19, I sent the email out on May 3.) All the emails that I've tried elicited no response (and half of them don't even work anymore), numbers normally have no answer and are constantly busy (or perhaps unattended). If you have any concerns about your package, it's best to head to your local post office for them to officially check on it.
Summary
I ordered two kankens — Blush Pink and Fog in classic from the ILoveMyKanken website using a credit card.
I bought two bags for 55 Euro or 2900 php each. The offered discount code gives 10 percent off, I got a discount of 17 euros or 900 php.
Shipping is free for orders over 40 Euros.
It took about ten days for my package to arrive from the UK to the Philippines. (April 20 – April 30.)
It took about seven days for the package to pass through all processing and arrive at my local Post Office.
I did not receive a notice, but I went to pick up the package anyway. (Excitement.)
I paid 1,800 php in taxes at the post office.
They do not reply to emails/calls reliably. I sent an email out to them on the third of May and received a reply on the nineteenth.
Additional Reminders and Information
The post office operates from Monday to Sunday from 9:00 AM to 5:00 PM. However, the cut-off time is at 4:00 PM so be sure to arrive before then.
Be sure to bring valid IDs when claiming your package.
If someone else is claiming a package for you, give them a valid ID and a letter of authorization; and remember that they have to present their own ID as well.
Write your tracking number down or better yet – print the invoice of your order.
Philpost's tracking website can be located here, whereas Royal Mail's tracking website (which should be given to you in an email from Kånken ) is located here.
Remember that you do not need to receive a notice from your post office to claim the package, feel free to check on it after the status has updated to enroute.
Bring a good amount of money for customs; the way they calculate the tax on items differs from person to person. This is a good calculator to give you an estimate of what you would be paying.
---
Kånken
Now onto the item – the Kånken has certainly been rising in popularity; it looks great and comes in an array of appealing colors and has a beautiful design. Although I am no expert on criticizing bags or clothing items whatsoever – this is my take on it.
The bag comes with a foam board in a pocket located at its interior – possibly for keeping its shape. The classic backpack, which is the one that I ordered – is able to fit a 13″ laptop. It contains small pockets at the side that are large enough to carry small items like a phone or perhaps a pouch/pencil case; though not big enough to carry a water jug. Located in the front is another pocket, which isn't that large and can carry the same things that the side pockets do.
Located atop of the bag is a handle that can easily be clasped and unclasped in order to actually manipulate the large pocket well. I really like the handle of the bag – it's designed really firmly.
Moving onto the straps at the back – I had to adjust them at first but other than that there's nothing much to say about them. Despite being thin, the bag is far easier to carry than other types of backpacks even when filled to the brim. I suppose that the rectangular-shaped design is the main reason for that.
The bag of course, being a Kånken  — features a signature reflector embedded with the Fjällräven Kånken name and logo. 

The bag also initially comes with these two tags that give additional information on the backpack's history. It also comes with a sticker that states the official color of the backpack.
---
As for the positive side, the colors that the Kånken comes in are beautiful. I personally prefer the lighter colors so it was a blessing for Blush Pink to be back in stock (although now Sky Blue is back and that is the color that I've always wanted 
). The design is extremely pleasing, and not only is it an aesthetic beauty – it is also structurally designed for comfort. It can hold a pretty large amount of items as well – which is essential. Although it's exceedingly pretty, function triumphs over style and this bag certainly aces both categories. It's pretty hyped and I can see why.
Additionally, the bag is made of Vinylon-F and is essentially waterproof. It's another great advantage. Next, the main selling point of the Kånken (and the reason why it was envisioned and brought to life in the first place) is to reduce back problems with school children – owing up to its structure and how much it eases the tension on your back. It certainly does make things feel a lot lighter, it doesn't lead to your back being more strained from poor design. This is of course, negated when you just carry it via the top strap or sling it over one shoulder.
Regarding the negatives; although I haven't handled the bag for long enough (hell, I am writing this review just four days after first getting my hands on the bag) – I notice that sometimes the zipper gets caught up with the folds. This is easy to fix but of course, is something that one wouldn't normally experience with a traditional backpack design.
Unclasping the top handle when you need to bring out a large item gets time consuming as well (though you can always just opt to leave it unclasped).
Next, I hear that the bag easily stains and gets dirty over time. It can of course be solved by washing it regularly though it comes to a point wherein that no longer is enough for all the accumulated grime. This problem worsens with the lighter colored backpacks, like the one that I myself bought. Luckily, the color range is vast and mostly on the darker side – so if you wish to avoid that as a problem graphite and similar colors are perhaps better choices.
Finally, I'd like to note that I had edited the pictures of the backpack through touch-ups in brightness and contrast. Although very minor, the color difference is striking. Below are unedited pictures of the bag along with a stock image of the color I had bought.
---
Hopefully this article was informative or of use to you. As a final statement, I am very pleased with my purchase of the backpack and look forward to using it in the coming school year. Hopefully I don't encounter too much problems; especially with the accumulation of dirt and grime – which I'm sure can be minimized through utmost proper care.
I may have initially found the Kånken appealing on Tumblr and whatnot due to the beauty of it and its design (namely the yellow Ochre tone that is highlighted very often); though its function has completely won me over. The hype – although coming from a different direction is indeed pretty true and will definitely win you over.
Though in all honesty it hurts to see the bag becoming more popular even if I only bought it recently. Let me stay hipster and let this bag be a rarity in the country I reside in amen.