Reading Time:
5
minutes
You can tell that a restaurant has done a lot of things right when you constantly crave the meal you had days after its passing.
I've always been the type of person to skip out on desserts but after a post-school (and a shortened day at that) pre-no class day escapade at a Japanese restaurant, there was an urgent need to follow it up with more snacks. My Tuesday concluded with a meal at Sushi Ninja, running through the drizzling rain to Alabang Town Center, roaming around for a bit and settling to eat at Milkbox afterwards for dessert and aftermeal conversations.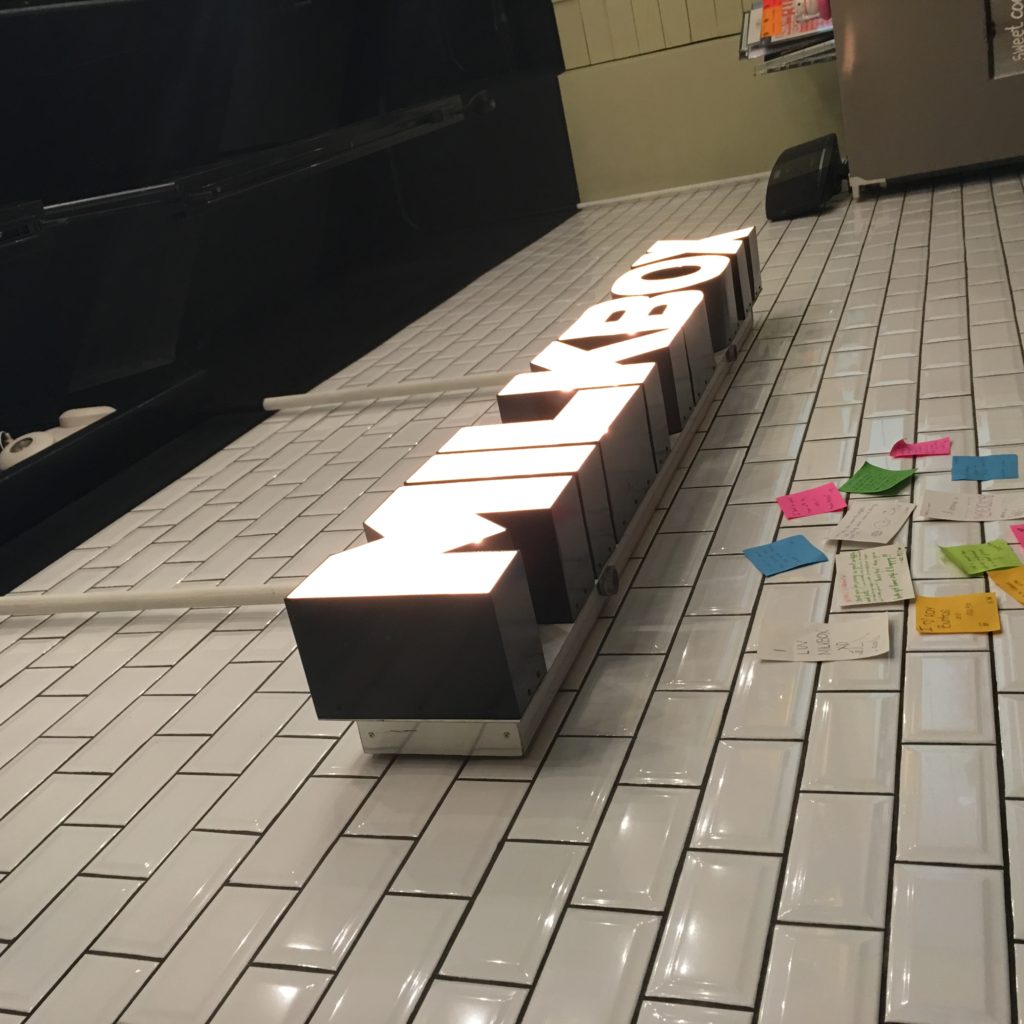 I've passed by the place a few times but have never gotten to actually eat at it — the place has always seemed really intriguing and cute! Starting from the illuminated sign, the decor and aesthetic of the place in general and the adorable logo and writing that marked itself over the whole place; it had always garnered a glance whenever I passed by. Located in a quaint corner of a bottom floor, it had replaced a mochi place that I used to always drop by – though I can't exactly pinpoint when it suddenly replaced the old one. (I sort of miss the old restaurant and the food that it offered but after eating here, I understand why and it's such a huge upgrade.)
When me and my friends arrived – it was about 6 PM. The place was empty so we got to sit at a cozy spot next to the white brick wall; we asked to push some tables together to accommodate us all and began reading the menu and chatting.
There were rows and rows of little drawers on the wall above our seats; there was an open drawer (personally I highly doubt I would be able to reach it even if I stood on the chair) with letters containing confessions and secrets which my friend took a few from. We read some of them out – it's a really cute touch to the store and the drawer was packed with those small letters.
The menu was presented very nicely; on a wooden clipboard. Its main items were wonuts (waffle-donuts fried to crispness), coffee, and shakes named as cwazy. (Amazing.) Recommendations and bestsellers were pointed out and the prices weren't bad at all – considering that all of them would be great for sharing they seemed very fair. After deciding on what to get we went up to the counter to order and pay.
Though the entire selection they offered seemed delicious – we opted for a new item on the menu — Sizzling Matcha and another ordered a Red Velvet shake. (I refuse to say cwazy shake.) I would have loved to order a cup of Aeropress coffee but I wasn't sure if it was the best time for coffee. Though as a sidenote I have been longing for an Aeropress coffee maker since forever.
Both orders came out at pretty much the same time after a short fifteen minute wait. Presentation was truly amazing and you can easily tell that cereal crumbs are a huge part of it, though I don't mind since they give the food a distinct taste.
I wasn't able to try the Red Velvet shake though I clearly observed that it was huge and quite messy to eat, but on the other hand the Sizzling Matcha was my order and I am really glad that I chose it. Something that has always turned me off from most desserts is the overwhelming sweetness that doesn't really appeal to me – but of course being matcha, this was absolutely perfect for me. Served on a hot plate reminiscent of the ones you would find in Pepper Lunch – the food is truly sizzling. It comes with a bottle of matcha sauce that you are meant to pour over the matcha blondie (a rich dessert bar akin to a brownie). Cereal crumbs lace the food all around and whenever you take a bite you can really feel its impact yet it also isn't enough to overpower the taste of the matcha dessert itself. Pouring it over was really fun and eventually the whole plate had matcha over it.
I can't pinpoint the exact words to describe the treat but it's described as a dessert that's both hot and cold – pretty obvious yet spot-on since all my spoonfuls required a bit of the ice cream, otherwise I wouldn't be able to handle the heat. Easily comparable to the cookie skillets with ice cream over a sizzling hot cookie – this is that but with matcha, tasting a thousandfold better. I would definitely order this again and next time – I am surely going to.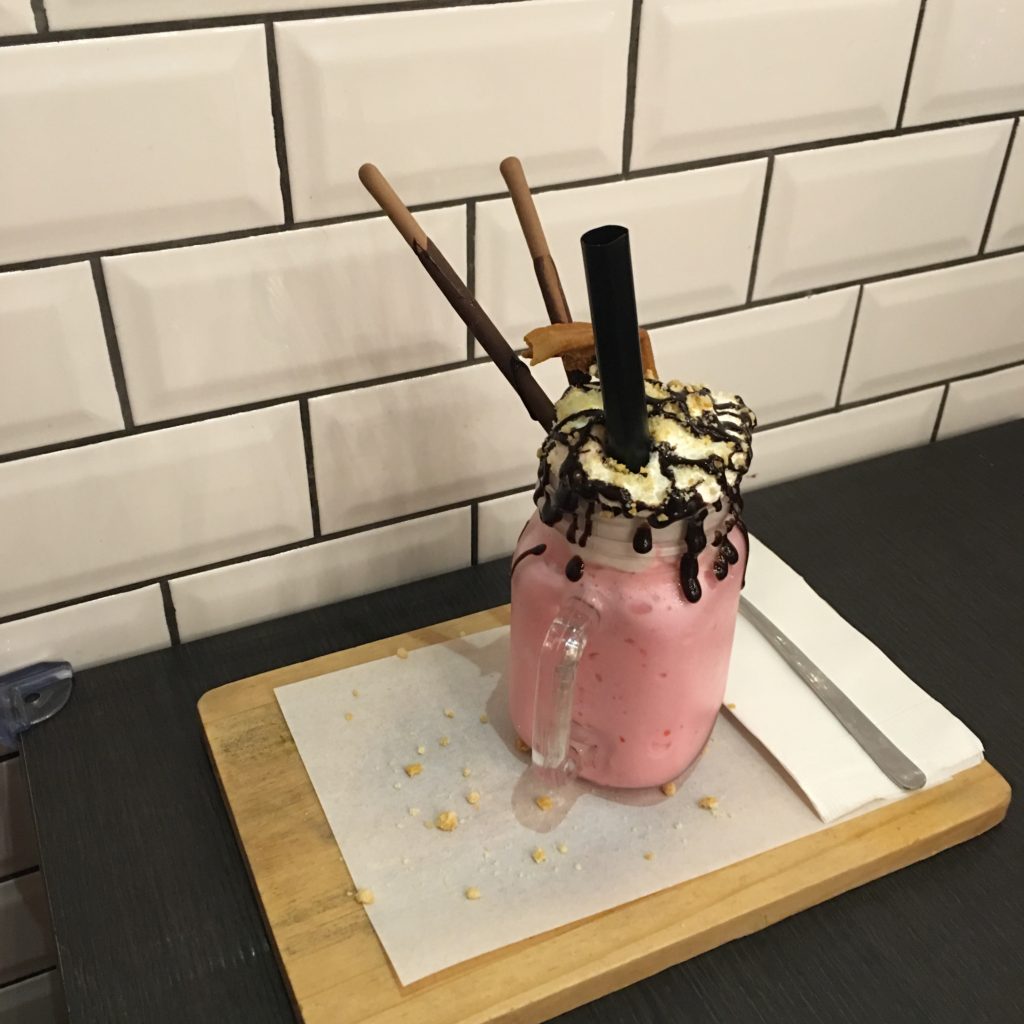 The meal also came with a huge bottle of water that came in handy – although not particularly sweet I found myself having to sip from it a lot. Paper cups are also readily available so it was really helpful.
---
I really enjoyed the meal I had here and can't wait to come back – it is essentially a perfect post-dinner or lunch place; I could also picture myself having breakfast here if you don't mind the fact that the mall opens right before lunch and that me voluntarily waking up in time for breakfast is a rarity.
However I can easily see a problem being the space – it's really quaint, cozy and small so it's best to come here when times aren't at peak or you know – not during the usual snack times or rush hour. Getting here around six was a good idea and being a relatively large group of people and having the whole area to ourselves was perfect; but then again – arriving on a solemnly quiet Tuesday attributed to this.
Everything in my experience was great – from the beautiful and aesthetically pleasing atmosphere that would simply draw anyone in, the grand presentation and equally great taste, the little bits and oddities such as the drawer and post-it notes attached below the sign making it feel a bit more personal; it was great. I'll surely be looking forward to more post-meal, long conversations with good food here.
(i luv milkbox XD!!)