Reading Time:
4
minutes
Elaboration to come soon, maybe.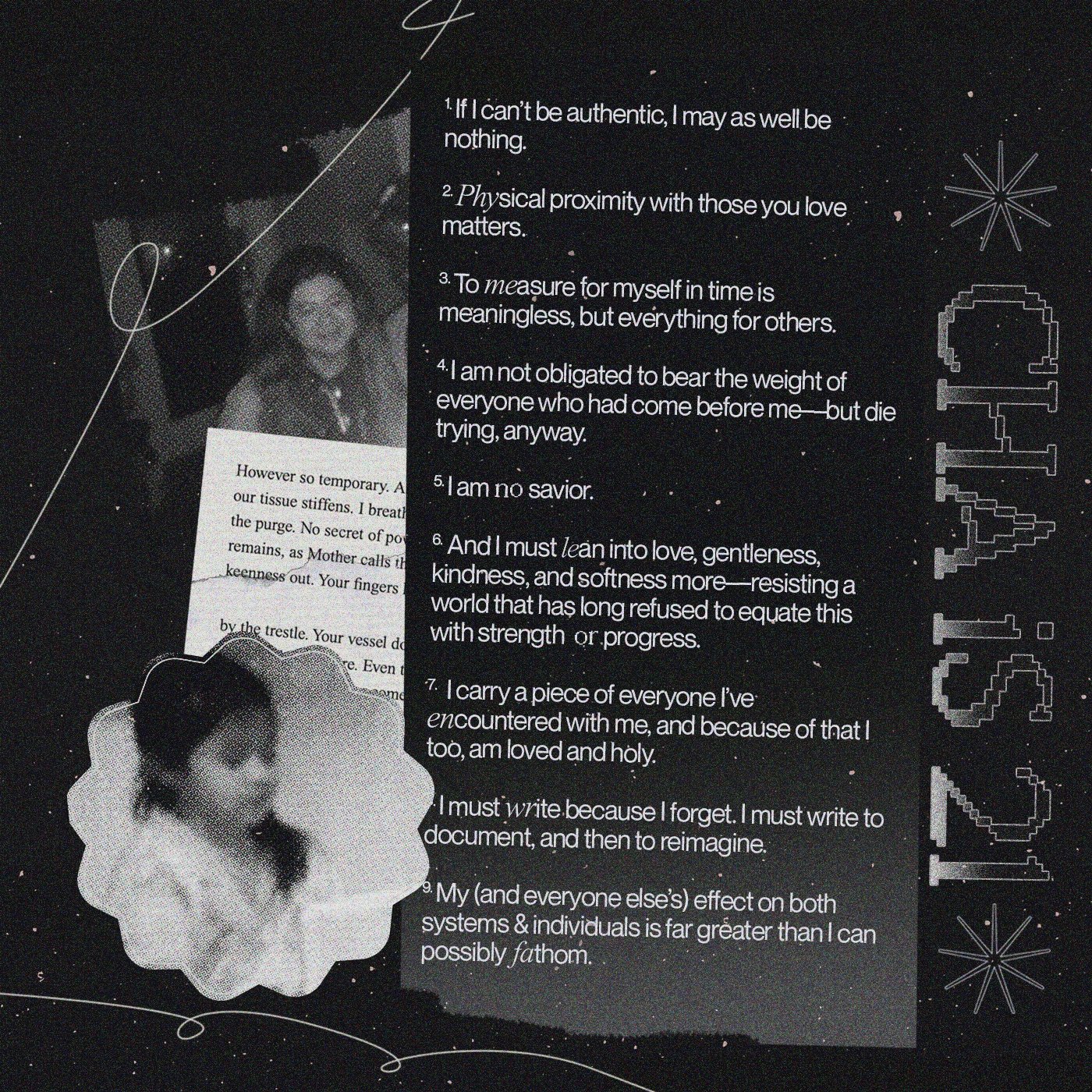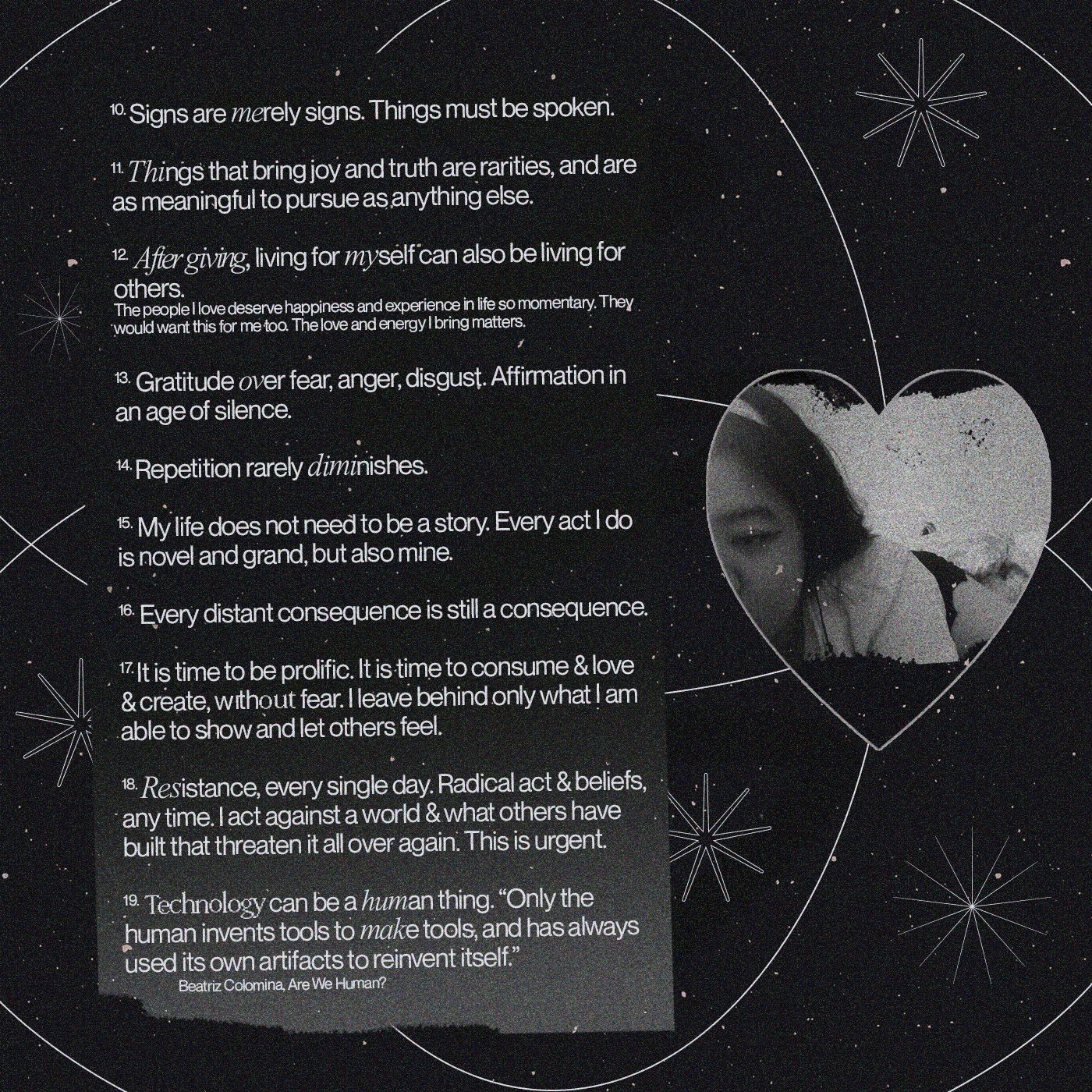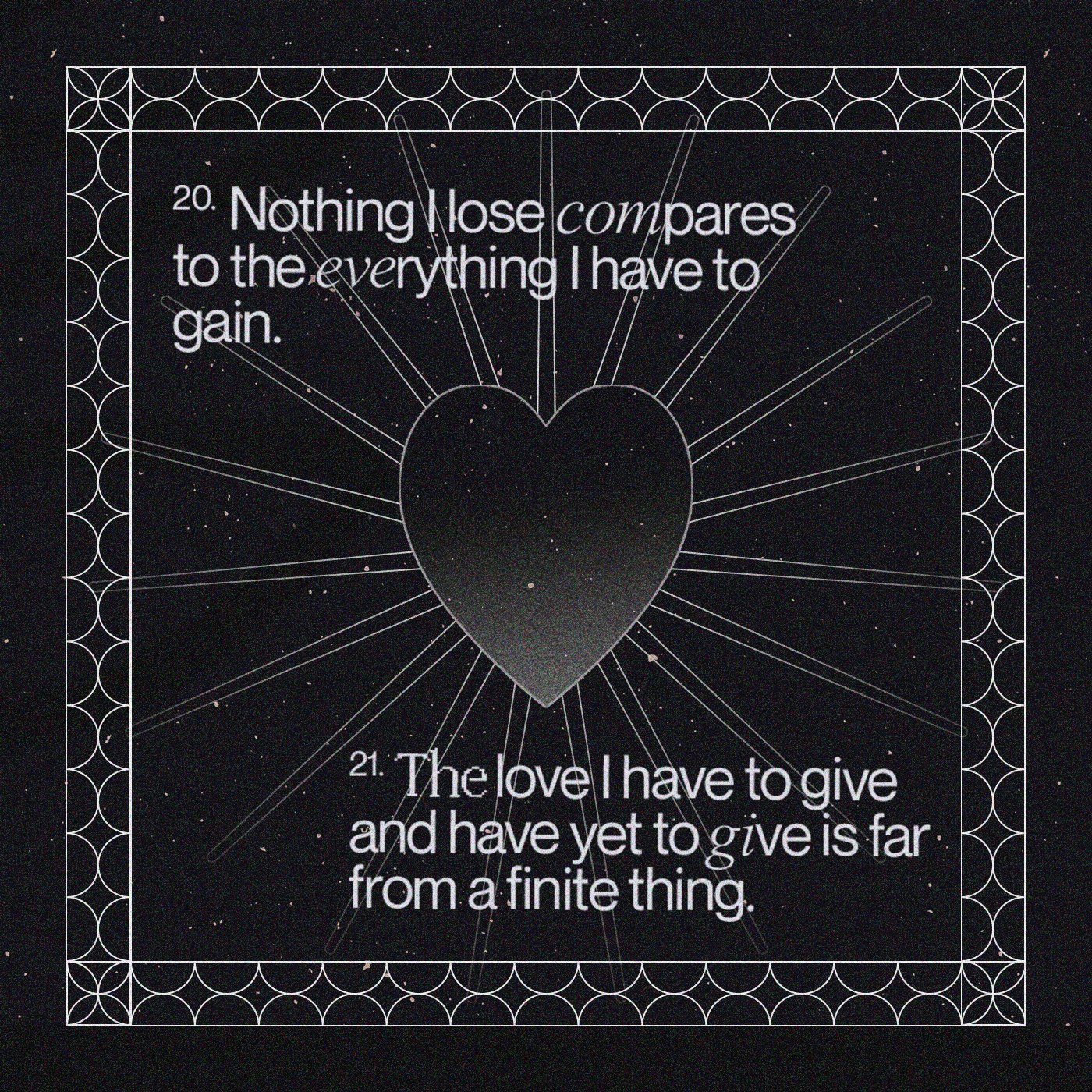 ---
About five years ago, at sixteen (fuck), I wrote a looong letter to myself about how I thought 21 was going to be the end. It still might be. I am still so far from the person I imagined myself to be, even if it feels like I've had centuries to work at this.
I am learning how to see myself in the worst of things. To enjoy sulking in my misery and excessive gluttony. To speak and be silenced during days that were never mine. To feel nothing when everything is happening and vice-versa. I control my own life. I end it when I can. No gods exist in this world that could possibly take this level of control from me. For that reason, this existence and consciousness that is an extension of the world can be forever destroyed––my misery that connects me to everything, my nothingness that intertwines me with everyone else's fate––the sixteen year old in me knows that the only form of power I will ever have is the choice to end it all. I destroy everything inside of me and around me. It is my duty to be incredibly aware of this.
Kind 21 thoughts
If I can't be authentic, I may as well be nothing.
Physical proximity with those you love matters.
To measure for myself in time is meaningless, but everything for others.
I am not obligated to bear the weight of everyone who had come before me––but die trying, anyway.
I am no savior.
And I must lean into love, gentleness, kindness, and softness more––resisting a world that has long refused to equate this with strength or progress.
I carry a piece of everyone I've encountered with me, and because of that I too, am loved and holy.
I must write because I forget. I must write to document, and then to reimagine.
My (and everyone else's) effect on both systems & individuals is far greater than I can possibly fathom.
Signs are merely signs. Things must be spoken.
Things that bring joy and truth are rarities, and are as meaningful to pursue as anything else.
After giving, living for myself can also be living for others.
Gratitude over fear, anger, disgust. Affirmation in an age of silence.
Repetition rarely diminishes.
My life does not need to be story. Every act I do is novel and grand, but also mine.
Every distance consequence is still a consequence.
It is a time to be prolific. It is time to consume & love & crate, without fear. I leave behind only what I am able to show and let others feel.
Resistance, every single day. Radical acts & beliefs, any time. I act against a world & what others have built that threaten it all over again. This is urgent.
Technology can be a human thing. "Only the human invents tools to make tools, and has always used its own artifacts to reinvent itself."
Nothing I lose compares to the everything I have to gain.
The love I have to give and have yet to give is far from a finite thing.
Less kind 21 thoughts (to myself)
You already know that nobody cares after you die, or when you want to die. What are you going to do with your life knowing that now?
Live the rest of your life as dangerously open and online as you have the past. Be an experiment for its effects.
Am I going to be one of those people that exist better as an idea –– with no tangible representation or thought?
Everything you wish for will never come true. Your mind will never be able to grasp anything real. Every desire you have is destructive.
How utterly selfish of you to not spend every possible waking moment for betterment that will change other people's lives drastically, instead of meager things that barely mean anything to you incrementally.
Fall Out Boy lyrics are still so true even if people think they're stupid just put them in your fucking bio since you want to do it so badly anyway
It is always too late and too early.
Likability matters a lot, so start sucking up a bit more.
Warning sign after warning sign, nobody has cared. It is pointless to ask for help. Do everything else you can to live.
Anger and rage are valid fuels.
Most of the time, it will be the only fuel you ever have.
You will regret everything at the end, anyway.
Everyone just wants the best for themselves. Nobody cares about you.
Only your own consistency can salvage you from a chaotic world.
Love is infinite. Love is also very easily tested.
Everything is only as unkind as you make it seem.
You are running out of time. Especially at this state.
Nothing matters, and as such everything does.
I am only what I leave behind. Every thought unsaid, every quiet non-response… it's like I have been existing to erase myself and my being. Do you want to be nothing?
I do not deserve a single thing that has ever happened to me.
It will never get better. You destroy yourself and then it becomes nothing. What will you do about it?